Festivals & Events

Christmas In Cayce
Christmas in Cayce festivities will return in 2023. Beginning on November 30th with the Tree Lighting Ceremony and continuing through the end of the year, visitors can ride or stroll through Cayce City Hall grounds and enjoy the magic of thousands of twinkling lights and Christmas music.
November 30 at 6PM:
46th Annual Tree Lighting Ceremony
Sponsored by the Woman's Club of Cayce, this beloved event is back! City Hall will be aglow with thousands of lights and Christmas displays. Santa and Mrs. Claus will make an appearance while local school choirs and bands perform Christmas carols. Hot chocolate and sweets are free for all during this magical Tree Lighting. In addition, the Cayce's Woman's Club is collecting canned goods and non-perishable food items as part of the 21st Annual Cayce Cares project. The Woman's Club of Cayce will also place a light on the tree in commemoration of loved ones who've made a difference in your life for a minimum $1.00 per light donation. Names of those honored will be listed in the program for the Tree Lighting Ceremony. All proceeds go to God's Helping Hands and the Scooter Scott Project benefitting families in Cayce and West Columbia. To be included in this program, donations must be made by November 26th using the ticket or by contacting the Woman's Club.
December 1:
Carols Along the Riverwalk (6-8PM)
The City of Cayce partners with the Cayce Events Committee to bring you holiday cheer with free live music and treats during Carols Along the Riverwalk. Beginning at the N Avenue Entrance (201 N Avenue at the intersection of Axtell and N Avenue) of the Cayce Riverwalk, the sounds of the holidays will flow through the trees during this reverse caroling event, where several local church choirs and musicians will be located throughout the first half mile of the Riverwalk. Parking will be made available at Brookland Cayce High School with free trolley rides provided to and from the entrance of the Riverwalk.
December 2:
Christmas Olde and New – Cayce Historical Museum
Saturday, December 2nd from 6-9 pm visitors can take in the sights and sounds of Christmas during the Cayce Historical Museum's annual Christmas Traditions Holiday Open House. Rooms of the museum will be decorated with Christmas trees and there will be live entertainment and light refreshments. Mr. and Mrs. Santa Claus will be there and there will also be a historical lantern tour. This year, for the first time, the event will feature an outdoor Christmas market with local vendors selling gifts, food, and drinks.
December 9:
Parade Day and Holiday Parade of Lights
The North Pole arrives in West Columbia December 9th and will open at 12:00 with live music, vendors and holiday activities. Beginning at 5:30 pm, the annual parade will make its way through West Columbia and Cayce. This beloved night-time parade is hosted by the Greater Cayce West Columbia Chamber of Commerce. Follow https://www.cwcchamber.com/ for updates and more information.
The City of Cayce is thrilled to announce the date of the next Soiree on State, March 23, 2024. The City has partnered with the Avenues Neighborhood Association to combine the Cayce Festival of the Arts with Soiree on State. Soiree on State will include artists, a free kid's area with bounce courses, face painting and a balloon artist, food vendors, a variety of musicians and more for fun all afternoon long! Soiree on State will take place from 2:00 pm to 8:00 pm along State Street, from Poplar Avenue to Railroad Street.
Cayce Plant Exchange
The Spring Plant Exchange will take place Saturday, March 11 at 10:00am. Plants may be dropped off beginning at 9am. Everyone is invited to bring seeds, bulbs, clippings/cuttings, potted house plants, shrubs, and even trees, but you do not have to bring a plant to participate. A master gardener will be on hand to answer any questions you may have. Rain or shine, the exchange will run until all plants have a new home. Child and pet friendly.
Cayce Fall Fest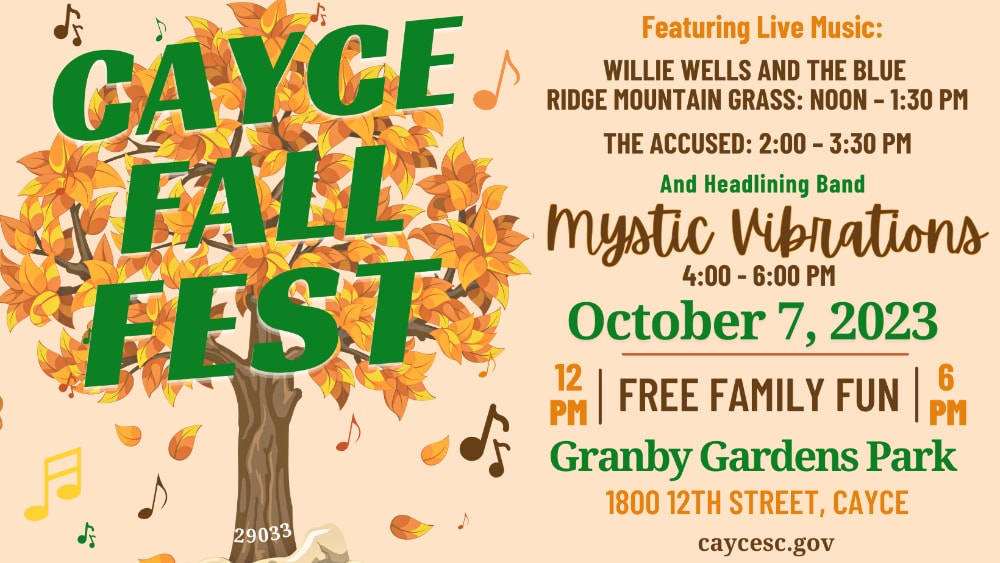 The City of Cayce Events Committee is preparing for the return of the Cayce Fall Fest on October 7, 2023! Admission will be free and the festival will take place at Granby Gardens Park (1800 12th Street, Cayce SC). This culturally diverse event will have festivities to include live music, great food and drinks (including beer and wine), vendors, a free kid's area, and more! If you're interested in being a vendor, please complete the online application.
The City of Cayce is excited to announce a series of virtual history tours at the 12,000 Year History Park located just off Interstates 77 and 26. Moderated by Mr. John Jameson, a Heritage Consultant for the 12,000 Year History Park, the history tours cover everything from the history of Native American inhabitants to life in our region during the Civil War! Come learn about the rich history of our area for over 120 centuries!
Cayce Serves Tennis Tournament
The Cayce Public Safety Foundation's Cayce Serves Tennis Tournament will return in Spring 2024. This fun-filled one day event features Men's and Women's Doubles at the Cayce Tennis and Fitness Center. Additional information can be found on their website.
Tartan Day South
The 12th Annual Tartan Day South will take place in Spring 2024. This weekend long Celtic Festival features Highland Games while honoring the Celtic culture and heritage in South Carolina's Midlands region. For additional information please visit the Tartan Day South website.
Explore More
Contact Us
City of Cayce
1800 12th Street
Cayce, SC 29033
803.796.9020


[email protected]

For All Media Inquiries
City of Cayce Spokesperson
Ashley S. Hunter
803-665-3676


[email protected]